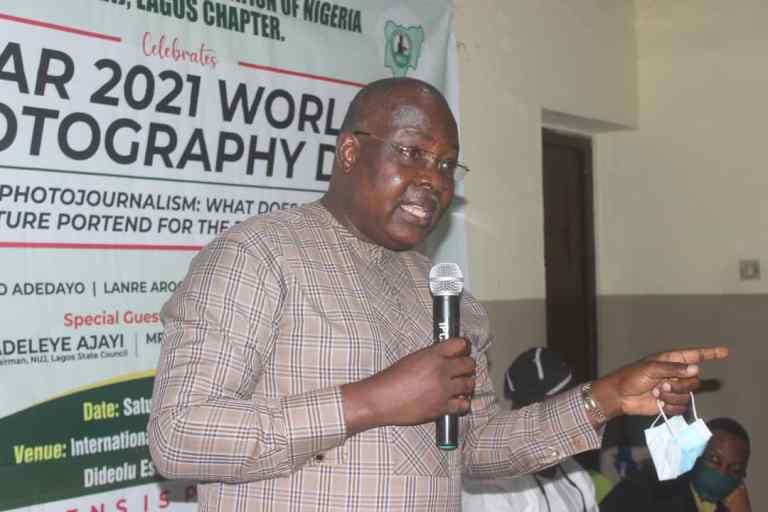 Keynote address on Photojournalism: What the future portends for practitioners, by 'Dayo Adedayo, Nigeria's acclaimed documentary photographer and cultural anthropologist at the 2021 Photography Day organized by Lagos Chapter of the Photo Journalists Association
Why are we celebrating World Photography Day?
World Photography Day is observed on August 19 every year. It is a day to celebrate the magic of cameras and photography.  The day brings together people who share a passion for photography and raises awareness about this art form worldwide.
Why August 19?
In 1839, Mr Niepce and Mr Daguerre's daguerreotype were hailed by the French academicians and bureaucrats. The French Academy of Sciences embraced the daguerreotype mechanism of capturing images. The same year on August 19, the French government purchased the patent for the daguerreotype camera and made it accessible to the entire world. That was how World Photography Day began to be celebrated worldwide.
In Nigeria, I will give thanks to the first photographer in our geographical location, Jonathan Adagogo Green (1873-1905), who died nine years before Nigeria came into being in 1914.
I would also love to mention, Chief Solomon Osagie Alonge (1911–1994). He was the first official photographer for the Royal Court of Benin in current-day Edo State.
Another great photographer was Hezekiah Andrew Shanu (1858 –1905) He was a photographer noted for his involvement in the campaign against inhumane abuses in the Congo Free State of the early 19th Century.
Others are Jackie Phillips (1918 – 2017), he was a portrait photographer.
Cornelius Oyemade, a renowned photojournalist in the trenches since the first republic.
Peter Obe (1932 – 2013) became famous during the Nigerian Civil War as a War Photographer, he was a photojournalist, sports journalist, publisher and author.
D. Ohkai Ojeikere (1930 – 2014), the man with the portraits of Hair Styles, Sunmi Smart Cole, photojournalist, publisher, author and editor.
How can I leave Donald Barber out of these great Nigerians who made our memories sweet and refreshing with their visuals? He trained all the topmost Nigerian contemporary photographers today, to me, he is the Father of Modern Nigeria Photography.
Iké Udé is a United States-based portrait photographer, while Akintunde Akinleye won the World Press Photographer in 2007.
TY Bello is a renowned portrait photographer, so is Kelechi Amadi-Obi.
George Osodi, Uche James Iroha, Andrew Esiebo are all renowned documentary photographers.
Sunday Adedeji is an uncelebrated Nigerian photojournalist who took the iconic photograph of Chief MKO Abiola coming out of a Black Maria among thousands of images he had created. That singular image of Chief MKO Abiola is now iconic that you cannot write anything about Chief Abiola without using that image to show the sufferings he went through during military era.
Sunday Aghaeze is known as the person that risked his life to take a picture of the convoy of President Umaru Musa Yar'Adua on his way back to Nigeria from Saudi Arabia in the dead of the night in Abuja.
Lukman Olaonipekun, popularly known as Lukesh, was the personal photographer to the former governor of Lagos State, Mr Babatunde Raji Fashola. He made the Fashola administration work endeared to the people and the proper governance pictorial documentation in our hemisphere.
The works of Lukesh gave birth to Bayo Omoboriowo. Omoboriowo is the personal photographer to his excellency President Muhammadu Buhari.
Why go through the list of all these renowned image creators that has given us visuals, every day to make our lives more rewarding? We need to celebrate ourselves much more than we do today. For ages, photographers are not respected in Nigeria until a few years ago in our society.
Can you all think for a minute what a newspaper will look like without any visuals or being blind without seeing the colour of the sky, the trees or the colours of the rainbow?
Another scenario is seeing the pictures of our ancestors that died long before we were born and pictures of so many places that we know of today that were not like that in years gone by. The power of visuals cannot be overemphasized.
Now to the topic of the day, what does the future portends for the practitioners?
The future is bleak, and the earlier the practitioners in this genre understand, the better for them. The world is hungry for visual storytelling, but will photojournalism survive?
Shrinking editorial budgets, increasing competition, mistrust of the press, risk of injury or death, erratic income, failure to provide for families and decreasing demand for work are just some of the factors impacting the future of photojournalism. 
Newspapers and magazines are much more interested in the wealthy, the glamorous and celebrities. This can be seen from the days of Ovation Magazine. Virtually all the newspapers in Nigeria now have an Ovation Style Magazine insert on Sundays to attract the rich and famous.
Suffering people don't make money for proprietors. Photojournalism hasn't lost its way, but it's been conveniently pushed aside. 
Photojournalism is more democratic today as everybody can do it, not only people who work at newspapers. Most of the breaking news today is from members of the public using their phones, because the information is also real-time, photojournalism is suffering from the effect of technology.
The new generation of photojournalists will work in a completely different way from the old photojournalists. They know the possibilities of working with social media and are not locked into only stills photography. Presently, visual storytelling is becoming more critical – if you're good at that, you will survive.
There are fewer staff photographers, and photographers are getting less paid, especially in editorial photography and sports photography.
Cameras and editing apps have become more accessible. People who are unable to record high-resolution videos and images can now do so with their phones.
However, the power of photography endures, and technology allows photographers more creative freedom than ever before.
My suggestions for the way forward for photojournalists are as follows; the first thing I will propose is Education! the second is Education!! and finally, the third is Education!!!
Photojournalists need to be retrained and also get proper education in photography for them to be able to see beyond the lens, which is mainly a significant challenge at the moment.
With over 300 forms of photography, these are some of the ones you can key into.
Abstract Photography
Adventure Photography
Advertising Photography
Architecture Photography
Astrophotography
Black and White Photography
Boudoir Photography
Candid Photography
Cityscape Photography
Commercial Photography
Crystal Ball Photography
Documentary Photography
Drone Photography
Editorial Photography
Event Photography
Family Photography
Fashion Photography
Fine Art Photography
Fish-Eye Photography
Food Photography
Forced Perspective
Glamour Photography
Golden Hour Photography
Head Shot Photography
High Dynamic Range Photography
Indoor Photography
Infrared Photography
Kinetic Photography
Landscape Photography
Lifestyle Photography
Long Exposure Photography
Macro Photography
Medical Photography
Milky Way Photography
Minimalist Photography
Mobile Photography
Multiple Exposure
Newborn Photography
Night Photography
Panorama Photography
Pet Photography
Photo Manipulation Photography
Portrait Photography
Prism Photography
Product Photography
Real Estate Photography
Scientific Photography
Seascape Photography
Social Media Photography
Sports Photography
Still-Life Photography
Stock Photography
Street Photography
Tilt-Shift Photography
Time-Lapse Photography
Travel Photography
Urban Exploration Photography
War Photography
Wedding Photography
Wildlife Photography
To make a worthwhile living out of photojournalism, you've got to think of different ways of financing yourself, you might have to  do some commercial work to enable you to go off to photograph the refugee crisis in the North East or the kidnapping crisis in the North West.
You can also find a way of being embedded with the Nigerian Army in the North East and become a War Photographer and document the war against terrorism which can then be published after the war.
Money can also be made, working with foreign media houses. Organizations as fewer photojournalists are being sent to photograph in Nigeria, but they now use more local photojournalists to tell their own stories instead of an outside perspective.
Aside from being a photojournalist, to make money or a living out of the profession, you have to start thinking like an entrepreneur. Start to trade in photography wares like tripods, cameras, lenses, camera bags, filters, etc., to amateurs and professionals alike.
Furthermore, photojournalists can come together with the help of a legal partner to set up an agency in selling images to media houses or organisations that might be interested in their work in or outside the country.
Photojournalists can also reframe from taking pictures and going back to the darkroom, which is now digital, to process photographs for other photojournalists as no one is currently doing that. This will actually allow photojournalists to take more pictures of where they make money rather than sitting behind their desks to process images and lose money in the process.
Images taken over the years can be turned into memorabilia and other objects, which can bring in income as against the actual images.
For the experienced photojournalists, workshops and tours could be arranged across the country, and a rich exhibition can be conducted to sell some prints.
Christmas is coming up, it is the best time for sales, and lots of organisations are looking at giving their clients befitting gifts for the end of the year. This is the best time for photojournalists to make money outside their usual scope. Several ideas, such as calendars, coffee table books, throw pillows, mugs, T-Shirts, frames in different sizes and media, can be sold to these organisations.
­­Professional photography isn't dead; it's just becoming less appreciated. If we had to worry about anything, it would have to be the quality of published photos. Professional photographers tend to take more graphically appealing, intimate and emotional images, which they are trained to do.
However, as technology progresses, news media evolves with it, but that doesn't make the news less compelling.
On this note, I will end my speech. I hope some of us have learnt new things and new ways of doing things. Thank you for inviting me to be the guest speaker at this year World Photography Day.
Long shall we live in sound health, peace and security to enjoy the Nigeria of our dream.
Always remember, a picture is worth more than a thousand words. Keep clicking and God bless the Federal Republic of Nigeria.
'Dayo Adedayo
August 21, 2021