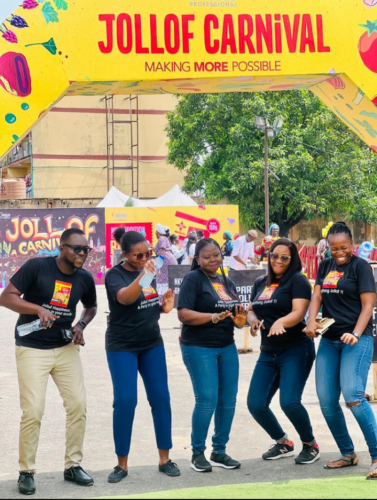 At a Jollof Carnival hosted in Lagos, Nestlé Professional unveiled a new 100g pack size of MAGGI Signature Jollof Seasoning Powder, a convenient and affordable option for out
of home users including restaurants, bukas and hotels.With its attractive packaging and uniqueflavors, the seasoning in the new pack sizeresponds to current preferencesfor
simplicity and efficiency to help customers create the one-pot meals more consumers prefer today.

Participants at the Jollof carnival had the opportunity to prepare and taste ten different innovativeJollof recipes including Banga Jollof, Coconut Jollof, Asun Jollof, Nkwobi
Jollof, Suya Jollof, Seafood Jollof, all made from MAGGI Signature Jollofinthe interactive cooking session!
Mrs. Oluwayemisi Oluokun, is a caterer and the CEO of God's Grace Events. Shewas one of the participants who had the opportunity to recreate an innovative recipe, Nkwobi Jollof. She said, "I am thrilled that the Nkwobi JollofI made today turned out so well.
MAGGI Signature Jollofgave it such a distinctive, rich flavor. Everycaterer and chef really need to trythis convenient pack toinfuse the signature jollof tasteinto their meals."
Speaking duringthe product unveiling, Funmi Osineye, Business Manager, Nestlé Professional, said, "No occasion in Nigeria is complete without Jollof Rice, and that is why
we are happy to introducethe 100g MAGGI Signature Jollofas an affordable and convenient solutionfor our out-of-home customers. This new packreinforces Nestlé's leadership position and commitment to growing the culinary landscapein Nigeria."

Participants at the colorful Jollof Carnival included chefs, caterers, event planners, representatives of hotels and restaurants as well as the media. One of these was Chef Nick Maajiwho is theVice President South-Westof theAssociation of Professional Chefs
Nigeria. He had this to say: "The 100g pack sizeof Maggi Signature Jollof is time saving and convenient, making life easy for me as an Executive Chef. I believe that this will be the same experiencefor my colleagues inthe industry. I also found the showcasing of the
diverse waysMaggi Jollof brings recipes to lifeexciting. It really has been a Jollof Carnival!
Mrs. Surakat Idowu, President, Association of Professional Caterers and Decorators in Nigeria was also in attendance. "I have been using MAGGI since I was in catering school
and find that MAGGI Signature Jollof has a great aromaand deliversthe authentic jollof taste! I must commend Nestlé Professional for introducing this convenient 100g pack
optionandencourage our caterers to trythis product."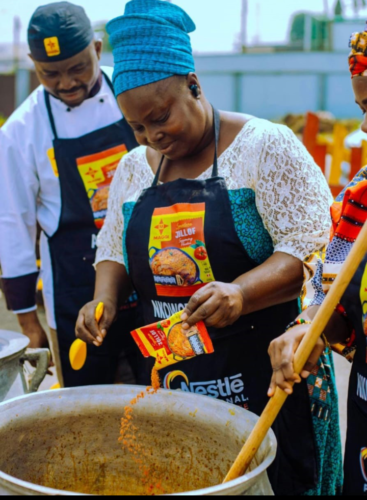 Jollof riceis a spicy and savory meal thatoccupies a special place in Nigerian cuisine. It is a centerpiece on special occasions, at parties, specia events and gatherings.  The Nigerian Jollof is renowned for its tasty, rich, and smoky flavor, loved by all. The introduction of an affordable, convenient 100g pack size is therefore a significant addition to Nestlé ProfessionalNigeria's portfolio.
………
For Advertisement, Event Coverage, Public Relations, Story/Article Publication, and other Media Services, kindly send an email to: thelegendnews25@gmail.com. To stay updated with the latest news, health updates, happenings,Sports and interesting stories, visit thelegendnewsng.com . THE OBINJA MEDIA COMMUNICATIONS (Publisher of TheLegendNews/THELEGENDTV)