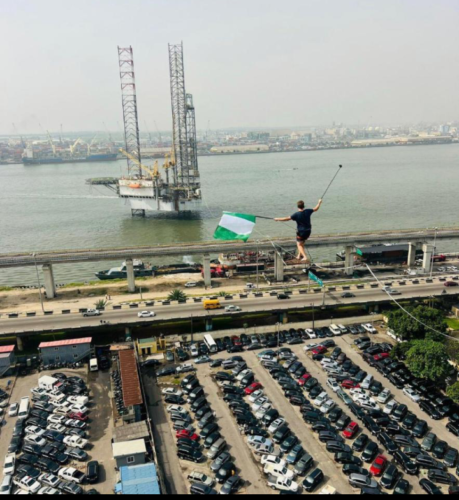 – Lagos Government, Red Bull Partner To Capture The Ideal Lagos Selfie
In a joint effort between the Lagos State Government and the Lagos Safety Commission, a collaboration has been established with Red Bull to introduce a project focused on capturing the ideal Lagos selfie, spanning from Sterling Towers in Marina Lagos to the Onome Rig.
Jaan Roose, a Guinness World Record-holding Estonian slackliner, will be orchestrating the photo capture from the Onome Rig, aiming to spotlight the state's beauty.
The Senior Special Assistant on New Media to the Governor, Jubril Gawat, shared photos via his X handle on Thursday, November 16.
His caption reads: "Red Bull is trying to get the Perfect Lagos Selfie with Jaan Roose from Sterling Towers, Marina Lagos to the Onome Rig.
"Jaan Roose is an Estonian slack liner and Guinness World Record holder.
"Slack Lining is a sport that can be a balance training, recreation, and a moving meditation.
"This project is to showcase the beauty of Lagos State, and the Red Bull team is working together with Lagos State Government through the Lagos Safety Commission.
"He is still warming up, though. Stay Tuned for the Perfect Lagos Selfie."
Punch
………..
For Advertisement, Event Coverage, Public Relations, Story/Article Publication, and other Media Services, kindly send an email to: thelegendnews25@gmail.com. To stay updated with the latest news, health updates, happenings,Sports and interesting stories, visit thelegendnewsng.com . THE OBINJA MEDIA COMMUNICATIONS (Publisher of TheLegendNews/THELEGENDTV)