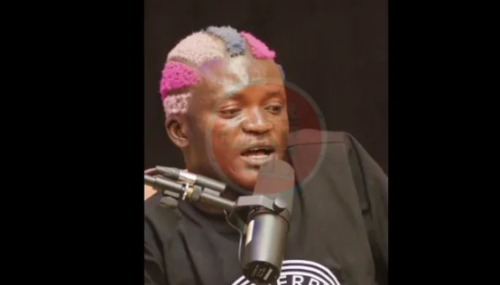 Nigerian street artist, Habeeb Olalomi Oyegbile, popularly known as Portable has made a shocking disclosure during an exclusive interview.
In a snippet of the interview he had with Nedu Wazobia, Portable said "I gat do ritual O, I am a ritualist."
Also, in another video he posted on his Instagram page, Portable said "Kanayo Kanayo we pray for money and Grace wey no dey disgrace.
"Prayer is the key to success… If you do ritual you go die, if you no do ritual you go die, kuku do ritual Kanayo. We are outside tonight Asaba, I am a ritualist."
Recall that the singer has always been in the news for the wrong reason. At one time, he said he was a cultist, and when the police came for him, he denied ever being a cultist.
While Portable did not go into detail regarding his ritual engagement, worried readers took to the post's comments section to offer their thoughts on his self-identification as a ritualist.
See some reactions below:
@_theCabal: "lol this dude cracks me up every time."
@thehakeem_: "This guy and wahala, 5&6"
@SteeflerBadman: "Una dn carry mad man enter podcast."
@_Saintlou: "Una Don finally carry potable come this podcast."
@Xperience_Snr: "Shouldn't he be called in to explain what he meant by saying "I'm a ritualist"??"
@lifeofzic: "Everybody don turn kanayo o kanayo."
@God abeg…: "ama rishualiss" should I laugh or cry. I'm stressed."
For Advertisement, Event Coverage, Public Relations, Story/Article Publication, and other Media Services, kindly send an email to: thelegendnews25@gmail.com. To stay updated with the latest news, health updates, happenings,Sports and interesting stories, visit thelegendnewsng.com