There is a reported case of fire outbreak at a three storey building located at no,  33, Balogun street, Lagos Island.
The fire incident which was said to have  emanated from the third floor of a  building used as a store.
While it is confirmed that the cause of the inferno is yet to be known as at press time.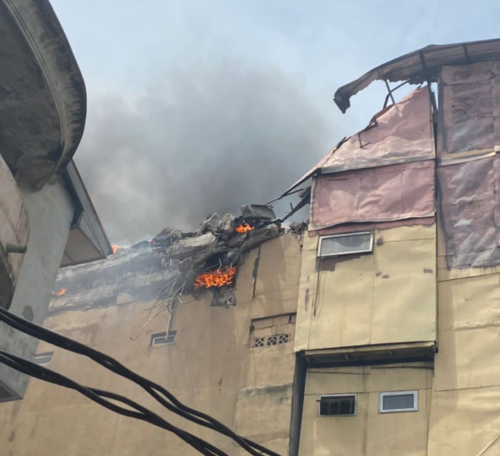 In a signed statement released by Dr Olufemi Damilola Oke-Osanyintolu
PS LASEMA, who gave an account of the fire incident.
According to Osanyintolu, he said that the  agency activated its response plan and upon arrival at the scene, observed a three storey building engulfed in flames.
He, however, asserted that the quick intervention of the LRT, LASG Fire Service and Fed Fire Service the fire has been curtailed from spreading to other adjoining buildings as operations are  still ongoing challenges with at the scene are stemming from Crowd Control.
He appealed to members of the public to allow responders carry out their work, while reinforcements from officers of the RRS and Neighbourhood Watch is urgently required.
The fire has been curtailed to just the building and a Union bank building by the side.
However, a section of the building collapsed due to the high intensity of the fire on the structure.
The agency's excavator has been deployed to the scene so as to bring the building to ground zero.
Dampening down ongoing.