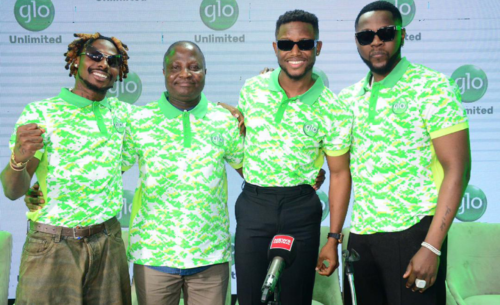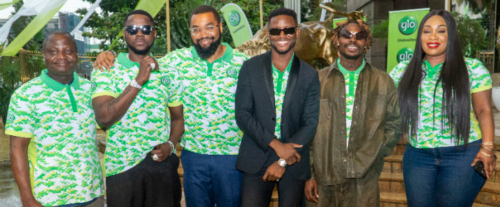 Total telecommunications solutions provider,  Globacom, on Friday explained that it appointed the trio of Ahmed Ololade, a.k.a Asake; Oluwatobiloba Anidugbe Daniel popularly known as Kizz Daniel and Chike Ezekpeazu Osebuka as ambassadors
Asake, a graduate of Theatre Arts from the prestigious  Obafemi Awolowo University, Ile Ife, Osun State; Kizz Daniel, a degree in Water Engineering from the Federal University of Agriculture, Abeokuta, Ogun State and  Chike, a Computer Engineering graduate of Covenant University, Ota, Ogun State were signed to the Glo family  at the Mike Adenuga Towers, Victoria Island head office of the telecommunications giant.
Globacom noted that the announcement of the three brand ambassadors was part of its celebration of the 20th anniversary of Glo and added that it appointed the new ambassadors. "to project the power of youth and enterprise and how much they can achieve with the right focus, passion and dedication that can come from seeing others who have succeeded. This is very much part of our tradition as we believe the strength of a nation lies in the ability and potentials of its youth".
"The engagement of these three stars as ambassadors "is meant to project the best Nigerians as models for younger people who are tirelessly aspiring to succeed. This is more important in an era where positive heroes and mentors are scarce and hard to come by. The intention is not just to promote the growth of music, Nollywood and sports where we have been very prominent, but also to encourage our teeming youths to aspire toward realizing their dreams by looking up to these ambassadors as mentors", the company disclosed.
Globacom, Nigeria's  biggest corporate supporter of arts and entertainment in Nigeria, has, over the years developed and sustained the culture of empowering talented and outstanding Nigerian artistes as ambassadors.
While congratulating the new ambassadors, Globacom urged  youths not to relent until they achieve their dreams like Asake, Kizz Daniel and Chike. It added that  "this is our way of inspiring a whole generation of young people with vision who can do better and achieve more without losing hope along the way, even when confronted with challenges".
The new ambassadors expressed appreciation to the Chairman of Globacom, Dr Mike Adenuga Jr., promising to represent the Glo brand well by constantly projecting its ideals.
………
For Advertisement, Event Coverage, Public Relations, Story/Article Publication, and other Media Services, kindly send an email to: thelegendnews25@gmail.com. To stay updated with the latest news, health updates, happenings,Sports and interesting stories, visit thelegendnewsng.com . THE OBINJA MEDIA COMMUNICATIONS (Publisher of TheLegendNews/THELEGENDTV)