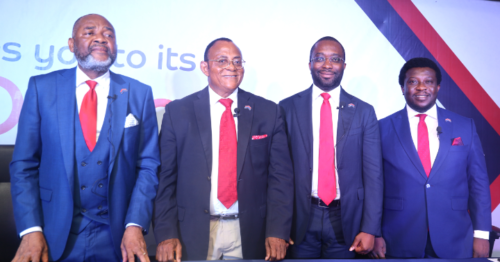 L-R: Company Secretary/Legal Adviser, Abbey Mortgage Bank Plc, Geoff Amaghereonu; Chairman, Board of Directors, Mazi Emmanuel Kanu Ivi; Managing Director/CEO, Abbey Mortgage Bank Plc, Mobolaji Adewumi; Executive Director Treasury and Business Growth, Oladipupo Adeoye during the Bank's Extraordinary General Meeting (EGM) in Lagos .
Abbey Mortgage Bank Plc, a leading Primary Mortgage Bank in the Nigeria celebrated a significant milestone on Friday, September 29, 2023, as it hosted its Extraordinary General Meeting (EGM). This gathering marked a pivotal achievement in the bank's journey, underscoring its unwavering commitment to excellence and its shareholders.
Over the past three years, Abbey Mortgage Bank has undergone a remarkable transformation, consistently achieving increased profits year after year. This growth is a testament to the bank's dedication to providing innovative financial solutions and maintaining quality banking services in the industry.
The focus of the EGM was for the shareholders to pass a resolution approving the utilization of a portion of the share premium account to offset historically accumulated losses, enabling the bank to complete its financial housekeeping and resume the payment of dividends. This significant decision bolsters its sustainable drive to create sustainable value for both shareholders and investors.
The bank is proud of this achievement. Speaking on this, the Managing Director, Mobolaji Adewumi, stated, "We are immensely proud of the journey we have undertaken, and the support of our shareholders has been instrumental in our success. This momentous step is a testament to our resilience and sustainable growth focus."
As we look forward to a brighter future, Abbey Mortgage Bank Plc plans on the continuous delivery of exceptional financial services and creating value for our shareholders.
The bank is confident that this will strengthen its position in the industry and open up new avenues for growth and more success stories.
Abbey Mortgage Bank Plc is one of the seven national Primary Mortgage Banks (PMB) licensed by the Central Bank of Nigeria and the Federal Mortgage Bank of Nigeria (FMBN). Last year, Abbey got a double investment grade rating from two prestigious rating companies, Agusto & Co. and DataPro. This credit rating enhances our reputation, validates our risk practices, and provides us access to capital and increased liquidity for our business. Our banking services range across personal savings, business banking, investments, cash management, specialized banking, deposit and funds management, children and teen account services, real estate, mortgage services, etc.
Abbey Mortgage Bank has eight branches nationwide, with its head office in Victoria Island, Lagos.
………
For Advertisement, Event Coverage, Public Relations, Story/Article Publication, and other Media Services, kindly send an email to: thelegendnews25@gmail.com. To stay updated with the latest news, health updates, happenings,Sports and interesting stories, visit thelegendnewsng.com . THE OBINJA MEDIA COMMUNICATIONS (Publisher of TheLegendNews/THELEGENDTV)